Bus from Phnom Penh to Siem Reap 
Most travelers Who want to Cambodia begin their trip in the capital city of Phnom Penh. Probably best known for the Tuol Sleng Genocide Museum (housed in the former S21 Prison) and the Choeung Ek Genocidal Center (also known as The Killing Fields), Phnom Penh has a long and tumultuous history. But these days it is actually one of Southeast Asia's fastest-evolving cities with trendy microbars and health food cafes springing up just blocks away from traditional markets and ancient temples.

After spending a few days exploring Phnom Penh, you're likely heading north to Siem Reap and the famous temples of Angkor Wat. Siem Reap is quieter and easier to navigate than the hectic Phnom Penh. But with over 2.6 million tourists annually, there is no shortage of things to do in Siem Reap.
 Bus from Phnom Penh to Siem Reap 2022
Duration: ~6 hours
Cost: ~$11.00 – $17.00 per person
If you're on a budget, then the best way to travel between Phnom Penh and Siem Reap is by tourist bus. The trip takes ~6 hours depending on traffic and will cost you less than $20 per person. There are dozens of bus companies that offer this route in Cambodia, and it's a surprisingly comfortable (and affordable) way to travel.
Tourist bus companies like Giant Ibis have reclining seats, power outlets, and air-con that actually works. They also advertise free Wifi (but it's rare that any buses in Southeast Asia actually have working Wifi).
Just beware of booking with cheaper bus companies as you'll almost certainly regret your decision. They tend to have older buses and are notorious for breakdowns, overcrowding, and unexplained delays.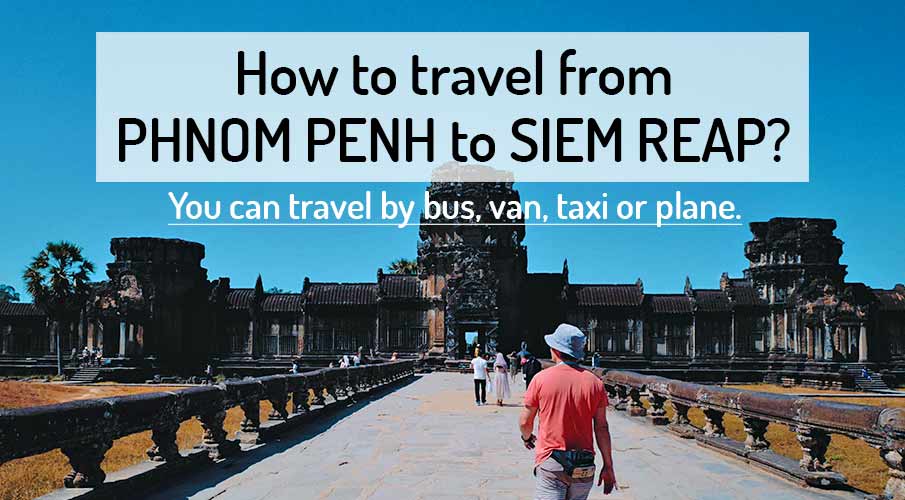 We highly recommended spending just a few dollars more and booking with a bus company that has a solid safety record and good customer reviews. The most popular bus companies are Giant Ibis, Mekong Express, Virak Buntham Express, and Mey Hong Transport.
Giant Ibis is our top pick Thai Duong Limousine bus and Mekong Express is the second-best option. There is really no reason to book with any of the other bus companies. You can compare all of your different bus options on Tongdaive.com.
| Bus Company | DEPARTURE TIMEs | Departure Point | Ticket Price | Book Tickets |
| --- | --- | --- | --- | --- |
| Giant Ibis | 8:45am, 9:45am, 12:30am, 11pm, 11:30pm | Giant Ibis Office – OCIC Street (Map) | ~$16 | |
| Mekong Express | 8:30am, 3pm, 11:30pm | Mekong Express Riverside HQ (Map) | ~$13 | |
| Virak Buntham Express | 9:30am, 11pm | 1 Block North of the Phnom Penh Night Market (Map) | ~$14 | |
| Mey Hong Transport | 8:30am, 1:30pm, 11pm, 11:30pm | Mey Hong Transport Office (Map) | ~$11 | |
| Sorya Bus | 7am, 8am, 9:30am, 10:45am, 12:30pm, 3:15pm, 10:30pm | Sorya Transportation Office (Map) | ~$12 (Sleeper Bus: ~$17) | |
Unfortunately, there is no main bus station in Phnom Penh that all these buses use. Instead, each company has its own bus station or transportion office.
Most buses provide a free pickup service at your hotel if you book in advance. But be sure to note the location when booking if free pick-up isn't available.
While most tourist buses bound for Siem Reap depart Phnom Penh in the early morning or late afternoon, there are also a few overnight bus options. The overnight buses leave Phnom Penh at 11:00-11:30pm and arrive in Siem Reap around 4:00-5:00 in the morning.
This option saves you the cost of one night's accommodation, but you'll be absolutely exhausted for your first day in Siem Reap. We don't recommend the overnight bus for such a short trip, but you can make your own choice. How to Get bus from Phnom Penh to Siem Reap
Be sure you tell your Siem Reap accommodation which bus you'll be arriving on before leaving Phnom Penh. Many Siem Reap hotels and guesthouses will arrange a free tuk-tuk to pick you up.
Most of the time you don't really have to buy a minibus ticket in advance due to the number of companies and departures for this route, but we still recommend booking online if you want to ensure you have a seat at a specific time rather than waiting at the bus station for the next available departure.
It seems like every minibus company has a different drop-off point in Siem Reap, so it's best to ask the staff for the specific drop-off location, especially if you are arranging a ride with your accommodation.
Xe Thái Dương đi Campuchia