Bus to Cambodia from Ho Chi Minh Viet Nam 
Traveling to Cambodia does not necessarily mean that you have to pay more for a flight ticket, especially when you make a trip to a neighboring country, like from Vietnam to Cambodia. If you choose a flight, it will be faster but you cannot enjoy the amazing scenery on the road when you are on the bus. This does not mention the fact that a flight ticket often costs much more than a bus ticket. So, if you have time, the Vietnam to Cambodia bus highly-recommended to enjoy the beauty of the two countries.
Trạm xe bus tại Campuchia- thuê xe đi Siem Reap 

Top 5 best bus brands from Vietnam to Cambodia

Tips to travel Vietnam to Cambodia by bus
Should you travel from Vietnam to Cambodia by bus?
It has never been that easy to travel these days because you have many choices over where to go, how much money to prepare, and by which transportation to travel. Many prefer traveling by plane while others still get on a traditional way of traveling: by bus. And if you are about to bus to Cambodia, the bus is such a good transportation method you should use.
The first and perhaps the most important reason is that bus tickets are cheap. bus to Cambodia is on sale quite often since there are more and more departures competing in the tourism market. Besides, there are regular discounts for children, students, and seniors, making it the most economical option.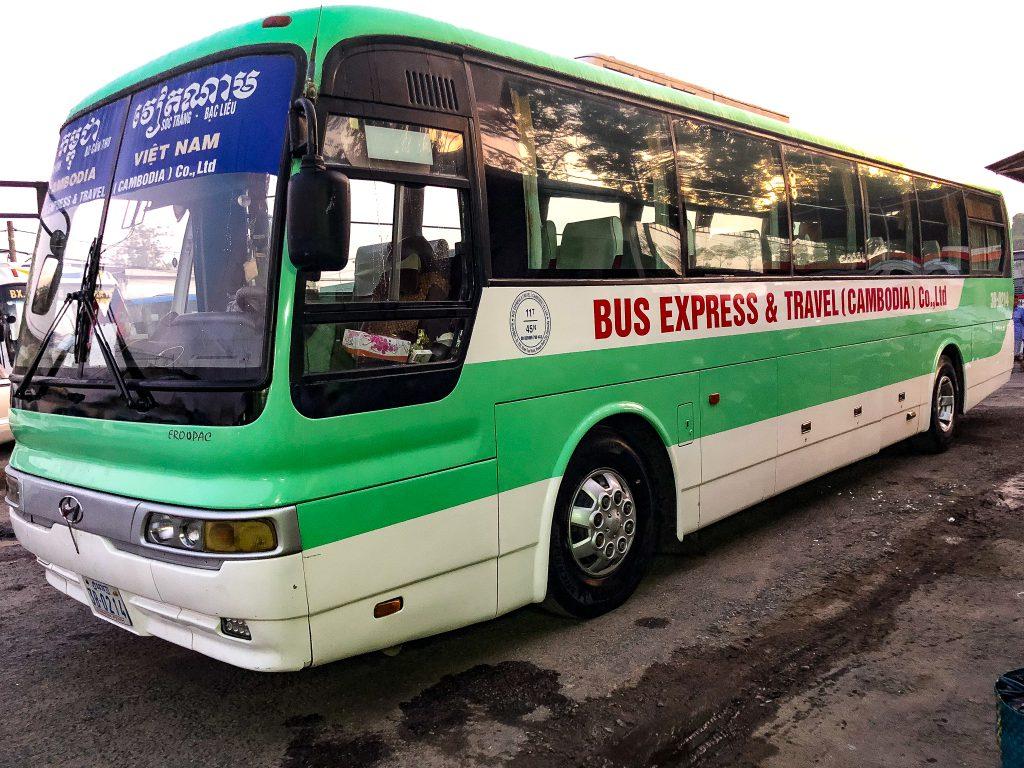 Add to that, services on buses are improving considerably, compared to the bus services several years ago. Most buses offer comfortable seats with individual power sockets; thus, you do not have to worry about smartphones running out of battery on the road. Free wifi is available, allowing passengers to read books, surf the internet, listen to music or watch movies along the way. Since you travel by the Vietnam – Cambodia bus, there is no missing luggage situation. It is very stressful and annoying if your luggage is lost and traveling with Vietnam to the Cambodia bus can help you to avoid such a problem because there is no limit on the weight of luggage you can bring.
Another reason why you should take on a bus from Vietnam to Cambodia is convenience. Normally, in most countries, including Vietnam and Cambodia, the airports are quite far from the city center of tourist destinations and tourists often have to take a taxi from the airport to the desired locations, which costs an unexpected amount. Bus stations are often located at or near the city center, allowing it much easier to continue your trip from the bus stations.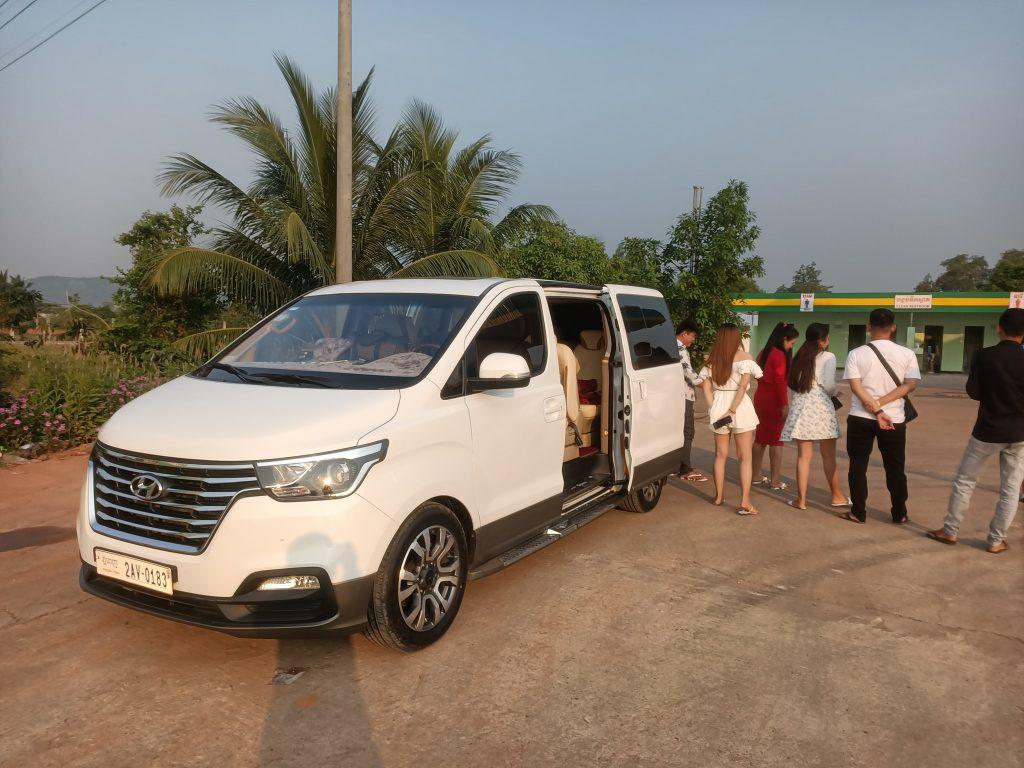 Vietnam to Cambodia Bus Routes
Ho Chi Minh (Vietnam) to Siem Reap (Cambodia): It is 600km from the Ho Chi Minh City of Vietnam to Siem Reap and the bus is the most economical way of transport you could find. Bus tickets from Vietnam to Siem Reap start at about $25-33. Normally, you will travel to Phnom Penh – the capital of Cambodia, and stop here. Then, you will be transported to another bus to Siem Reap.
Ho Chi Minh (Vietnam) to Phnom Penh (Cambodia): It takes 250km to travel from Ho Chi Minh City to Phnom Penh capital and you might have to spend 6-7 hours on a tourist bus. From Phnom Penh, you can easily take a bus to travel to Siem Reap to visit Angkor Wat Temple Complex.
Vietnam to Phnom Penh route is recommended because it offers more complexity to tourists. Once placing your foot in Phnom Penh, you can feel free to visit this capital and stay as long as you want before grabbing your luggage and take another bus to Siem Reap.
Top 5 best bus brands Bus to Cambodia from Viet Nam
Before planning your trip from Vietnam to Cambodia by bus, obviously, you have to look for a reliable bus to ensure a comfortable, safe, and affordable trip. Vietnam has many emerging bus brands to meet the traveling demand of tourists. Among them, here are some of the most reliable names you should consider
Choose a reputable limosine/bus brand for a comfortable and satisfying ride. 
Thai Duong Limousine

: Mai Linh is one of the most popular transportation brands in Vietnam. You can Mai Linh's green color everywhere, from bus to taxi and motorbike taxi. Mai Linh shuttle buses offer excellent customer experiences because, since its foundation in 1993, the brand has always followed its core values of effectiveness, ownership, leadership, professionalism, and teamwork. The brand has its own app called "Taxi Mai Linh". Install this app on your phone and you can easily book a ticket to travel on a bus from Vietnam to Cambodia.
Sorya express bus : Another highly-recommended shuttle Vietnam – Cambodia bus is Sorya. It is a Cambodian bus brand with an office in Vietnam. Many choose this bus brand if they want to go somewhere far from the center because this brand offers a direct ticket to such far provinces without changing another bus in Phnom Penh.
Kumho Samco: Founded in 2007, for 13 years, this bus brand has received many good reviews from tourists for excellent services and friendly staff. The brand has expanded dramatically, exploiting routes between different locations of the south of Vietnam.
Sapaco limousine : is a popular bus brand from Vietnam – Cambodia. Its reputation, as well as high quality, have made tourists pleased. Sapaco always invests in modern equipment to meet customer's demand and bring the best comfort and convenience to customers.
Long Phuong: Belonging to Mai Linh Cambodia Express, Long Phuong is a reputable Vietnam – Cambodia bus, receiving much support and love from tourists for its good services, reasonable price, and safety.
Tips to travel Vietnam to Cambodia by bus
For those who have never traveled on a bus from Vietnam to Cambodia, there are some tips you can keep in mind to ensure a happy trip: Bus To Cambodia from Sai Gon

Be careful with your bags and luggage: It is sad but it is true that thievery is still popular not only in Vietnam but also in Cambodia. As a tourist, you have to take action to protect your belongings. Remember to seal and lock your bags and luggage and always watch them.

Never accept any packages or anything else from strangers: Only carry your own bags and luggage. Don't touch anything that is not yours because you are responsible for any belongings that you are carrying.
Always be careful and protect your luggage.
Never share a taxi or rent a car with a stranger when crossing the border with Vietnam to Cambodia bus because it might get you in trouble. If the other passengers are carrying prohibited items, you might be caught by the police for being together with them.
Wear comfortable clothes: As it might be a bit longer to travel by bus from Vietnam to Cambodia, remember to put on something comfortable so to enjoy your trip bus to phnom penh.
Within a limited budget, you completely can enjoy real experiences Bus To Cambodia . It is not only about the cheap ticket prices, traveling by bus, which is much better than it used to be, also allows you to enjoy the landscapes along the road.
If you prefer to join a tour from Vietnam to Cambodia which combine many different types of transportations, please do not hesitate to view our Vietnam Cambodia Tours list which is operated by one of reputation operation in Vietnam.
Xe Thái Dương đi Campuchia