How To Travel To Cambodia From Vietnam By Bus
Is there Thai Duong Limousine a direct bus between Vietnam and Cambodia? No, there is no direct bus from Vietnam to Cambodia. However, there are services departing from Vien Pasteur and arriving at Phnom Penh via Ho Chi Minh. The journey, including transfers, takes approximately 7h 14m.
Heading to Vietnam for a holiday? You wouldn't want to miss out travelling to Cambodia too since the two countries are close neighbours and there are many ways of travelling from Vietnam to Cambodia—by air, land, or via the Mekong River. If you're arriving in Cambodia by plane and landing either at Phnom Penh International Airport or Siem Reap International Airport, there are visas available on arrival. In the event that you require one, do have at least two passport-sized photographs with you for a smooth application. Otherwise, you might be fined a small amount.
Passing through the Mekong River is also possible by boats and cruises. Do expect brief stops on land for passport checks. Visas on arrival are available at the Cambodian border crossing. In this article, we will focus on buses to Cambodia from Ho Chi Minh City and places where you can buy the bus tickets from. We will also look into the border scam between the two countries and how to avoid being charged extra for visas.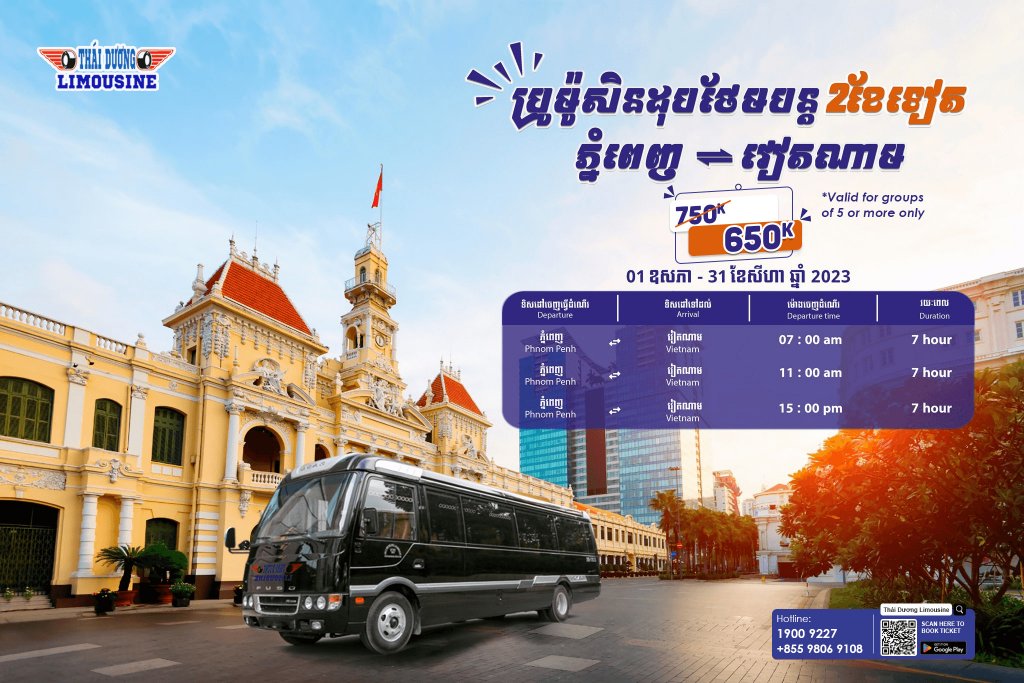 Bus from Ho Chi Minh to Phnom Penh
First up, we will look into travelling to Phnom Penh from Ho Chi Minh. The nearest and most frequented main border gate is Moc Bai International Border Gate, located approximately 60 km (37 mi) from the Ho Chi Minh city center. Upon crossing the Vietnam border, you will be at Bavet Border Post, which is the border crossing station's name in Cambodia. But of course, there are other border crossings available in Ho Chi Minh City—like Le Thanh Border Gate, Tịnh Biên International Border Gate, and Ha Tien Border Crossing. We recommend booking your bus tickets from these top 5 go-to online platforms —
Thaiduonglimousine.com
, bookmebus
, and 
12Go ,tongdaive.com
,camboticket which we will look into detail next. The standard journey is approximately six hours, and departure and arrival stations vary across different transport operators.
Where to buy the bus tickets – How To Travel To Cambodia From Vietnam By Bus Thái Dương Limousine 
A quick search via Thai Duong Limousine website gives us a pageful of options, and you could even sort the list based on the earliest departure time, fastest journey, and cheapest trip. There are also options to filter by the bus operator, time, and bus type. You can also view at a glance the number of seats available for each listing. How convenient and user-friendly! The first bus by Khai Nam departs at 4am and is also the cheapest at 10 USD. Buses operated by Thai Duong Limousine departs at every hour starting from 4am, with the last bus departing at 4pm. Bookmebus.com also shows you the boarding points and drop-off points for each listing accordingly so you can compare between the operators listed.
As for 12Go, it is one of the most trusted and reliable booking companies online. There are two common departure stations to catch your bus to Phnom Penh from Ho Chi Minh Thai Duong Limousine bus , Giant Ibis and Ho Chi Minh Kumho. Departing from the former will take you approximately 6.5 hours to reach Cambodia and the latter about 6 hours. Depending on the operating bus company, there are different bus timings, with the earliest being 6:15am (on a Monday), and 3pm is the last bus available. You will arrive either at Phnom Penh Giant Ibis or Phnom Penh Kumho. Prices start from 14 USD.
Another popular website to compare prices would be Baolau, and apart from buses, they do offer transportation in vans—starting from 15 USD. The earliest departure time is 6:30 am (on a Monday) from Thai Duong Limousine Bus. The bus station is located about 10 km (6 mi) from the city center of Ho Chi Minh City. After a six-hour ride, you will find yourself in the capital of Cambodia. At a slightly cheaper price starting from 12 USD, you can choose to take the Thai Duong Cambodia Bus, which will similarly take you six hours to reach Phnom Penh. The Meyhong Bus departs at 7am, 8:30 am, and 1pm.
Bus from Ho Chi Minh to Siem Reap
Not planning to travel to Phnom Penh but heading to Siem Reap, a city in northwestern Cambodia, to see Angkor Wat instead? We've got options for you. Siem Reap is about 320 km (199 mi) away from Phnom Penh, and you can get there by a direct flight or choose a wallet-friendly option—that is, to travel via a bus or minivan. Trains are currently not available at the time of writing.
Referring back to our top 3 online platforms to purchase bus tickets, bookmebus.com offers only one option, and that is to travel via the bus operator Mekong Express. The 40-seater bus leaves at 7am and takes approximately 14 hours, so the estimated drop-off time is at 9pm. You will have to be at the departure point (Mekong Express office) at least 45 minutes before 7am to prepare for the check-in procedure. Children under the age of 5 do not require tickets, so good news for parents travelling with young children! Prices start from 22 USD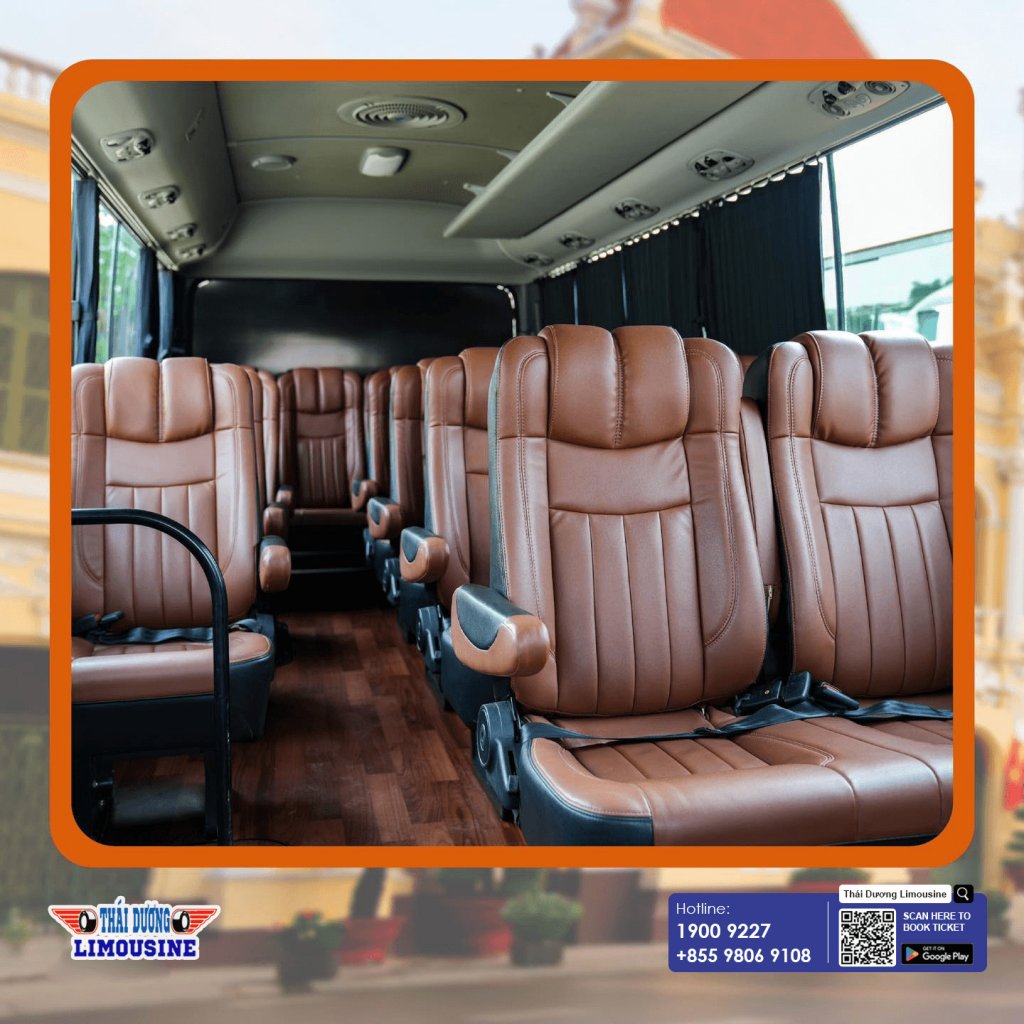 Compared to buses from Ho Chi Minh to Phnom Penh, where there are a couple of departures and arrival points, buses to Phnom Penh departs only from Ho Chi Minh Kumho 4 and arrives at Siem Reap Bus Terminal—based on 12go.asia's search results. Prices start from 27 USD, and there are three departure times—6:15 am, 7am, and 3pm by Kumho Samco. This is a 15-hour bus ride, so if you're departing at 3pm, you will arrive only at 6am in the morning the next day.
Vietnam Cambodia border scam
It is important to get your visas sorted out before crossing over from Vietnam to Cambodia. Not doing so will put you at risk of being overcharged by officers at the border gates. Cambodia offers e-visa processing through the country's Ministry of Foreign Affairs and International Cooperation website since April 2006, and you can access the website here. They even have a live-chat option if you need help with your queries and in the event where you're unable to find the answers in the FAQ section. Do note that not all border-crossing checkpoints accept online visas, so do some research or use the live-chat function if you need help getting that sorted out. Application-savvy peeps might want to download the iOS or Android app on the App Store or Google Play Store to keep track of their application status. The Ministry of Foreign Affairs and International Cooperation has also brought in various payment gateways this year, thus making it easy for Visa and MasterCard holders and Alipay users to make payments instantly. For fresh updates, head to this Bus to Cambodia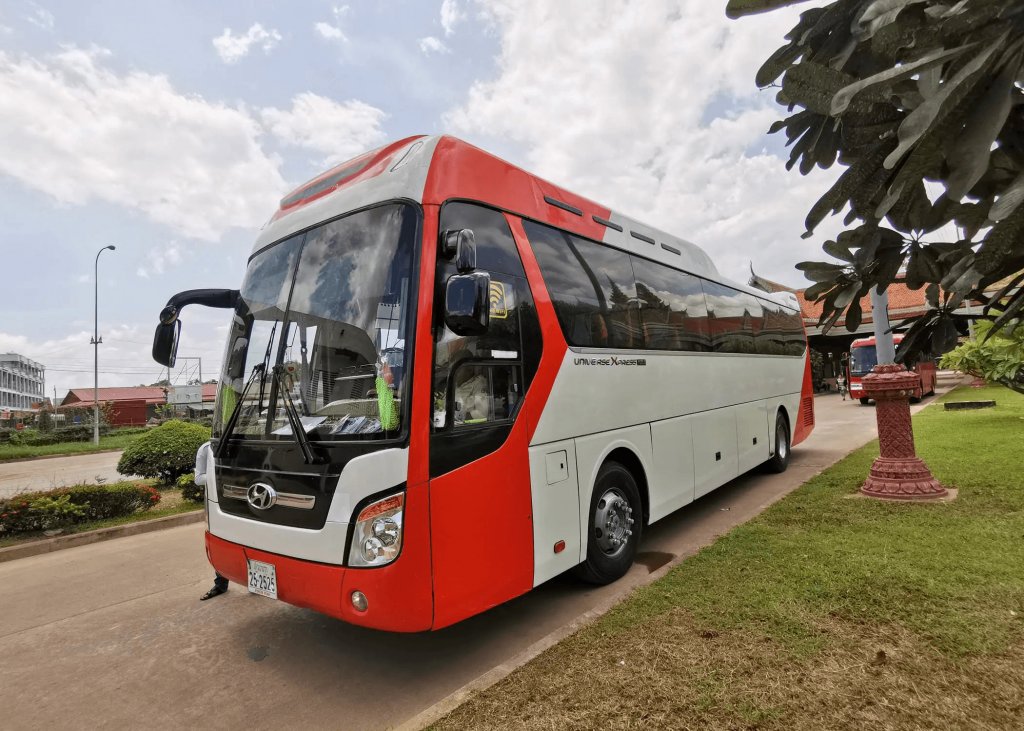 Heading to Cambodia for a trip isn't as tough as you thought, right? With a little planning beforehand and an affordable transportation budget, you can easily catch a bus to Phnom Penh or Siem Reap. When in Phnom Penh, we recommend visiting Tuol Sleng Genocide Museum, which is located in the heart of the city and a history-rich place. Take a Viator tour (link below) if you want to also see Choeung Ek Genocidal Center, an execution ground for the Khmer Rouge in the past. Or you may head to the museum on your own and purchase a ticket to enter—from 8:00am to 5:00pm daily. Prices start from 3 USD. Audio guides are also available in several languages, including Khmer, English, French, German, Chinese, Vietnamese, Korean, Japanese, Spanish, Italian, and Dutch for a small fee. Apart from the famous Angkor Wat in Siem Reap, there are also other landmarks worth seeing—Ta Prohm, Banteay Srei, and the ever-interesting Bayon Temple, where you can spot smiling faces at almost every corner. We're so ready for Vietnam and Cambodia!
Xe Thái Dương đi Campuchia